Your Partner for Integrated Wound Care in Skilled Nursing Facilities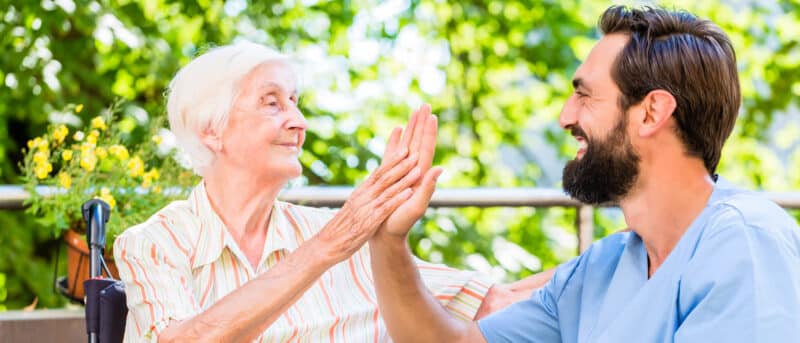 As experts in wound healing, Healogics® provides world-class wound care and drives wound science forward by developing successful healing treatment and prevention techniques. Through partnerships with skilled nursing facilities across the country, we work tirelessly to heal more wounds and change more lives than ever before.
Innovative Solutions
Hard-to-heal wounds can have serious consequences. Our providers work with dedicated multi-disciplinary teams to develop care plans designed to provide optimal healing for the patients we serve. The longer a wound goes untreated, the greater the risk of infection, amputation and other complications. These wounds need specialized care since underlying conditions could prevent them from properly healing. Healogics offers advanced treatment options such as wound debridement, negative pressure wound therapy, as well as incision and drainage; all at the bedside!
Data and Research
The Healogics team is dedicated every day to improving chronic wound healing and outcomes. This dedication, combined with our commitment to science and research, results in more efficient and effective wound care. We have treated nearly 300,000 patients annually and healed over 4 million wounds. Our research is driving national wound care standards and wound care management guidelines resulting in improved outcomes and efficiencies.
Offerings and Care
Our goal is to deliver professional, trusted services that heal your patients faster and are seamless for your facility.
Our professional services are billed directly to the patient's insurance.
Each patient is guided by a dedicated, specialty-trained provider who works closely with your facility's wound care nurse.
We treat a variety of wound types, pressure injuries, skin tears, burns and dermatology issues.
We offer robust, compliant documentation based on CMS guidelines.
Cost Savings
While skilled nursing facilities have options for specialty wound care, Healogics delivers the benefits of expert care across a community's inpatient and post-acute settings.
We work with your facility's formulary.
Our documentation supports Part-B billing.
Decrease hospital readmissions due to complications related to complex wounds.
Reduce transportation costs of sending patients elsewhere for care.
Increase patient satisfaction and treat hard to heal wounds in a timely manner.
Contact our Post-Acute Wound Care Team today to learn more about how you can improve wound healing in your facility. Call 1-888-252-4325 or email us at postacute@healogics.com.