Wound Care Awareness Is Now More Important Than Ever
Written by Healogics Chief Medical Officer Dr. William Ennis, DO, MBA, MMM, CPE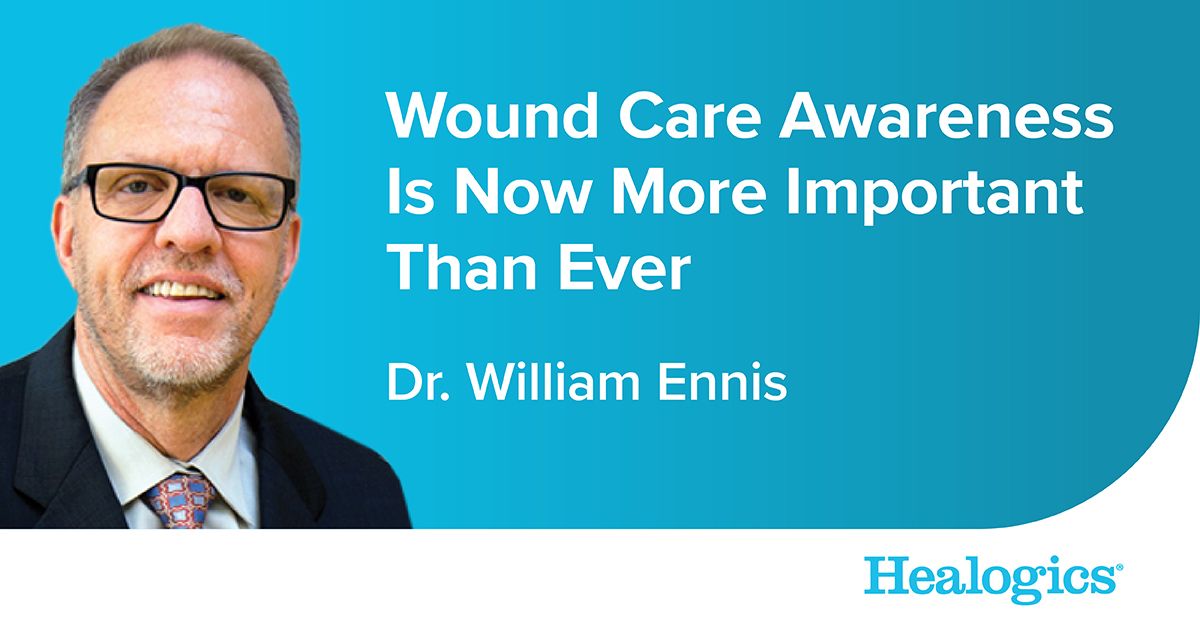 The pandemic has taught us many things about the vulnerability of our healthcare system and how disease disproportionately affects those already compromised. Wound care patients, on average, are living with two or more coexisting health conditions. Treating the wound, which is simply the end manifestation of these clinical conditions, requires a comprehensive, multidisciplinary approach. Wound Care Centers® achieve higher outcomes due to collaboration, clinical exposure, and dedication to the specific treatments and diagnostics currently available.
When COVID-19 cases started to mount in early 2020, the prevailing choice was to close Wound Care Centers, limiting hospital care to avoid unnecessary exposure to the general population. As we now look back on those initiatives, we find several unintended consequences arose. One of the most troubling is the increased number of amputations performed compared to pre-COVID data. Several explanations for this are plausible, including patients who were afraid of in-person visits, choosing to manage their wounds at home. Another possibility is that COVID infections impacted patients' microcirculation, making wounds more difficult to heal and amputations inevitable due to advanced soft tissue loss.
In truth, a combination of factors led to publications from Italy, the Netherlands and the U.S. to find not only an increase in the number of amputations but an increase in the level of amputations. Pandemic amputation data shows a higher percentage of above-knee and below-knee levels of amputation compared to foot and toe amputations which predominated during the pre-COVID era.
A historical precedent was set when the wound care community came together to lobby for and ultimately create the designation of "essential service" for wound care. This designation allows centers to see patients on a regular basis even during high community infection rates.
As rising vaccination acceptance leads to a reduction in COVID-19 cases, some features of the "new normal" should continue. We need not wait for another pandemic to remember the critical nature of nonhealing wounds in medically complex patients and the important role that our Wound Care Centers play in treating those patients.
We are proud of our dedication to wound care awareness every day, all year long. Our eighth annual Healogics Wound Care Awareness Campaign is more important than ever. It is a way for us to continue to help, heal, and improve the lives of our patients during an extremely difficult time.
Thank you and be well,
Dr. Bill Ennis