Prevent Stalled Wounds to Improve Patient Outcomes
Written by Healogics Chief Medical Officer, Dr. William Ennis.

Healogics is dedicated to research to advance our understanding of wound care and continually improve treatment. Utilizing our robust wound care database, we recently identified four factors that have the greatest impact on whether a patient heals according to expected timelines. These are: Frequent/Regular Patient Visits, Preventing Stalled Wounds, Increasing Patient Engagement and Utilizing Advanced Modalities.
The second white paper in this series, "The Impact of Stalled Wounds on Patient Outcomes," explores a topic that has been researched for more than 100 years, starting with a study conducted on wound healing in soldiers during World War I. In this white paper we examine the expected healing trajectories of several types of wounds, the types of wounds most likely to stall during healing, and when the stalling typically takes place. We also compare the effectiveness of various treatments, such as irrigation, debridement and antibacterial treatments.
Healogics Wound Care Clinics have healed over 4 million wounds and created one of the world's largest wound databases. Using our own real-world data, we found 27% of wounds stall at some point during treatment. Our analysis shows the type of wounds most likely to stall are also the most difficult to treat and heal. The following wounds had the highest stall rates: 45% of radiation ulcers, 39% of arterial ulcers, 32% of pressure ulcers. Most importantly, we found that the risk of stalling increases steadily between weeks 4 and 10, emphasizing the importance of regular appointments and close monitoring of wounds during this time.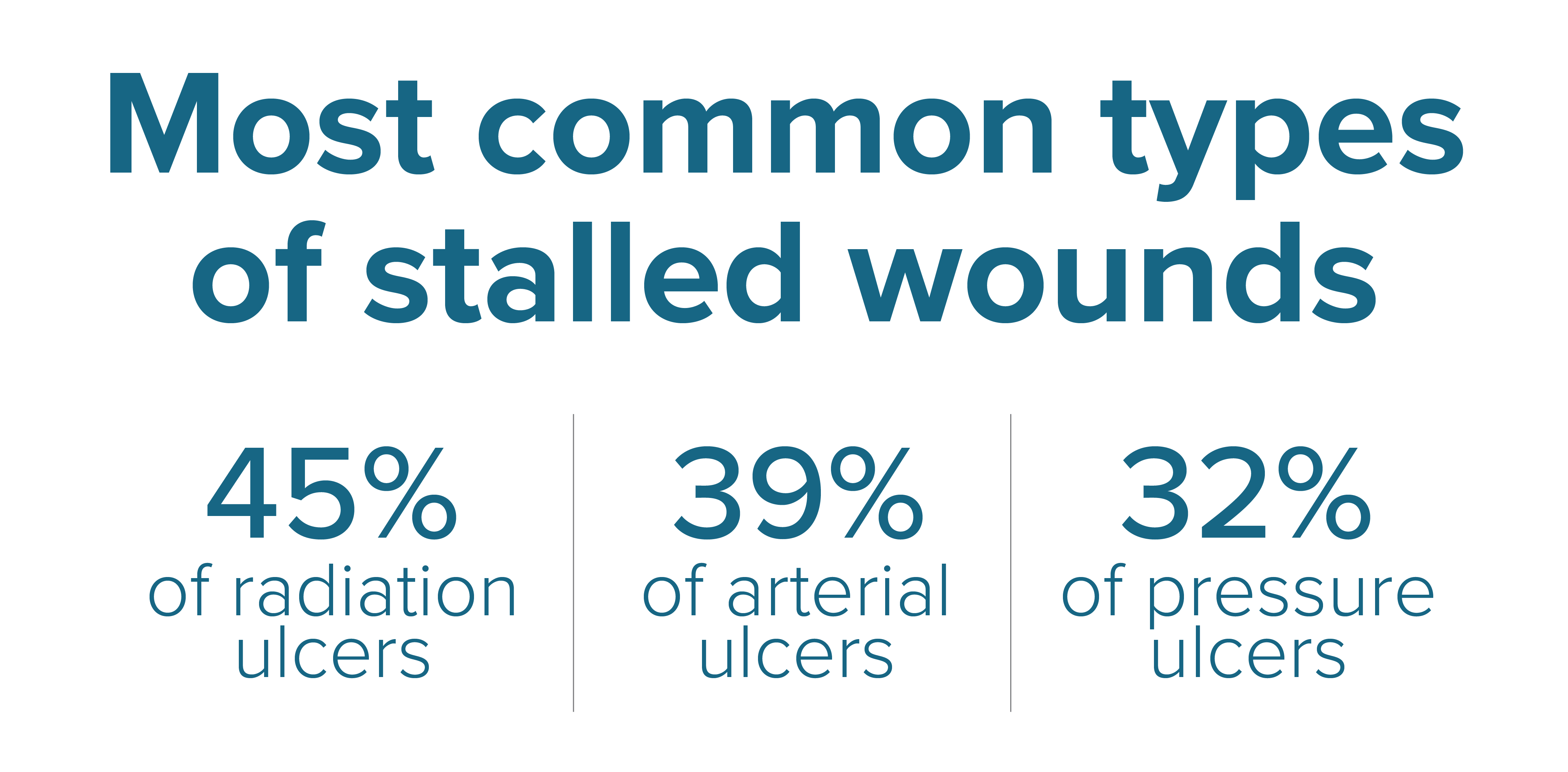 Whether you are a healthcare provider or someone who is living with a non-healing wound, your ongoing and proactive involvement is essential to healing. Remain vigilant in watching wounds at risk and in maintaining your appointment schedule.
Thank you and be safe,
Bill Ennis, CMO Healogics
The first lever in this four-part series, patient visit frequency, is discussed in the blog post, Patient Outcomes Improve When Scheduled Appointments Are Kept, and white paper, "Reducing Unwarranted Clinical Variability through Patient Visit Frequency."