The Importance of Wound Screening During Telehealth Visits
By Carolyn M. Shinn, RN, BSN, CWS, Vice President, Clinical and Quality Process Excellence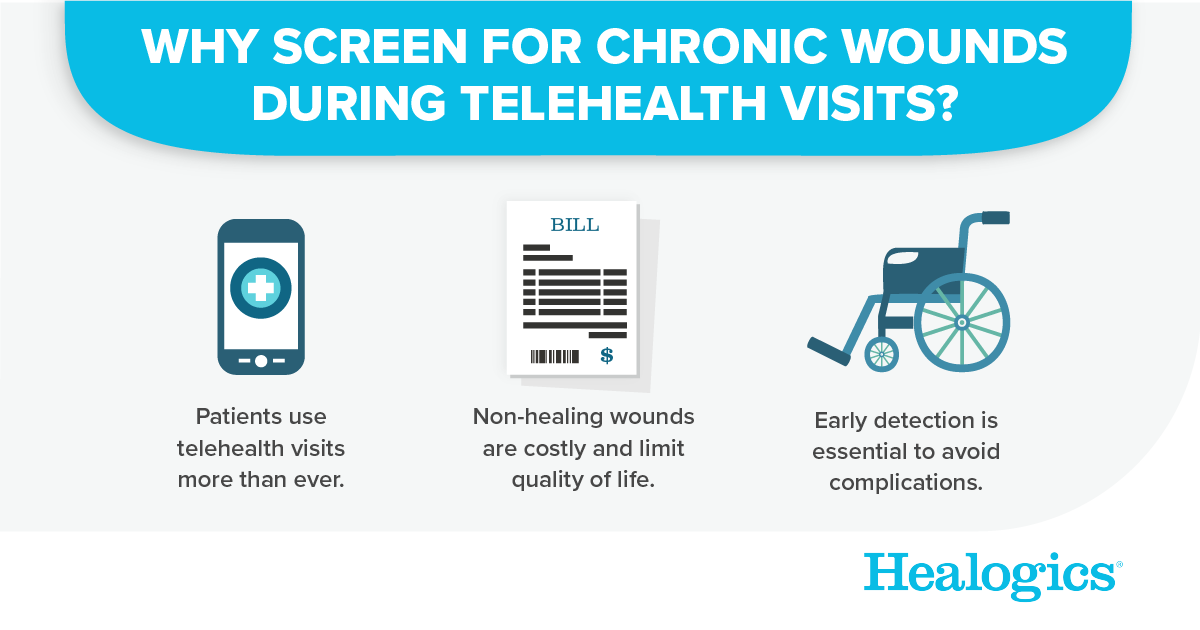 During the Coronavirus (COVID-19) pandemic, reliance on telehealth services increased, moving from a convenient service to one of necessity. The American Medical Association included information from a May 29 report from McKinsey & Company Health Care Systems & Services, that stated before COVID-19 led to the shutdown of non-essential services in the United States, telehealth accounted for an estimated $3 billion, post-COVID this is expected to reach $250 billion. Physicians and other health professionals are now seeing 50 to 175 times the number of patients via telehealth than they did before the pandemic. The report notes that 46% of patients are now using telehealth to replace canceled in-person visits, up from just 11% of patients who used telehealth in 2019.
We predict this shift to telehealth services will continue post-pandemic, which means it is critical to spread awareness of the importance of screening for wounds during these visits.
The impact of chronic wounds on the health and quality of life of patients and their families cannot be underestimated. An unhealed wound on the foot or leg can lead to infection and severe complications such as amputations. Due to a decline in in-person visits, we've seen an up to 50% increase in major limb amputations during the pandemic researched by William J. Ennis, DO.
Patients suffering from chronic wounds may experience chronic pain, loss of mobility or function, increased social stress and isolation, depression and anxiety, prolonged hospitalization, increased financial burden, and increased morbidity and mortality. The financial burden imposed by chronic wounds on society is substantial. Early identification and advanced treatment for chronic wounds can save limbs and lives.
As we continue to ensure access to care for those in our communities suffering from chronic wounds, we have created a Telehealth Wound Screening document to be shared with physicians or healthcare providers performing telehealth visits.
Chronic wounds sometimes require a long duration of treatment and need frequent monitoring, as well as several follow-up visits. The Healogics Telehealth Program provides access to wound care providers for patients who cannot make in-person visits. While in-person visits still remain the best option, telehealth visits improve the quality of life for patients with chronic wounds by providing convenience and decreasing costs while still maintaining high standards of wound care.
To learn more about the prevention and treatment of chronic wounds, visit woundcareawareness.com.