Continuing Education for Those Providing Care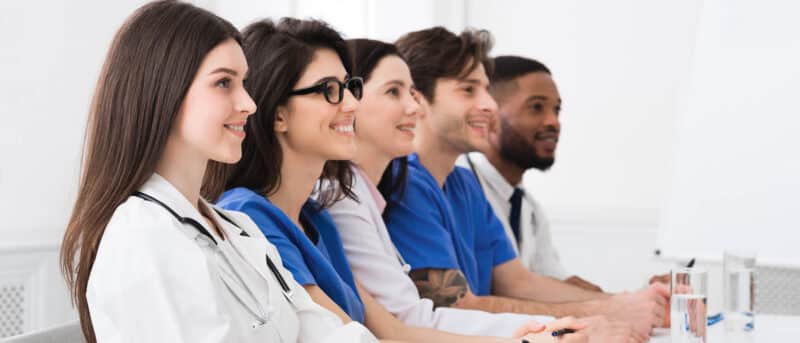 Wound care is a highly specialized and rapidly changing field of medicine. Healogics is committed to maintaining this pace as we strive to improve the lives of the people we serve.
We're also committed to our team members, increasing their knowledge, and influencing their attitudes about chronic wounds. As an integral part of our wound care model support, Healogics believes that having a highly educated team can drive best-in-class operations and ensure consistency in the centers we manage. Practically speaking, this begins with our robust and relevant clinical education programs surrounding all things wound care.
Healogics 101: Welcome to Wound Care
At the start, our team member orientation offers new employees the opportunity to learn about our organizational values, the patients we serve, and the people that make it all possible. Regardless of their role, we believe that it is important for all incoming team members to learn about Healogics as a company, and to understand the expectations of being a steward of our mission.
We offer role-based clinical courses to ensure competency in advancing wound healing. All required topics are covered in our extensive curricula, paired with interactive skill stations and group discussions. Depending on the position, our trainings are available both online and in person. Plus, whether employed by Healogics or by the hospital, our educational opportunities are available for all to attend.
Clinical Studies 201: Nurses and Hyperbaric Oxygen Therapy (HBOT) Technicians
Our clinical courses focus on educating our nurses and technicians on the principles of caring for the patient with chronic wounds, and/or patients receiving hyperbaric oxygen therapy (HBOT).
Team members can participate in a variety of educational activities, which prepare them for their roles in one of our Wound Care Centers® (WCC). Emphasis is placed on the multidisciplinary approach and the application of clinical practice. We provide annual skill refreshers based on annual trends and quality indicators to reinforce and/or update best practices within the centers, as well.
Ideally, this particular grouping of course content is best suited for any new nurses, HBO technicians or even safety directors headed to work in a Wound Care Center. It is also possible for anyone seeking initial wound care competency skill signoffs to enroll in our coursework, as well.
Clinical Studies 301: Physicians and Medical Directors
Upon employment, in order to care for patients within our Wound Care Centers, Healogics requires all physicians to complete our hyperbaric medicine courses. We offer a comprehensive three-part clinical education series to meet these requirements.
Our sequential online series allow providers to work at their own pace, advancing through the modules at their convenience within the specified timeline. Some of the topics covered in these courses include:
The essentials of hyperbaric medicine
Advanced wound care skills and techniques
The role of our providers within these processes
For those physicians who have either already completed a course in hyperbaric medicine or have supervised HBO therapy within the last two years, we work with experienced providers to create an individualized onboarding plan tailored to their level of experience and expected involvement in their center.
We also are proud to offer our team members access to iLearn, our online learning platform, leveraging a variety of ways to expand their wound care knowledge. With over 280 course offerings specific to quality clinical excellence, iLearn provides team members the ability to learn at their own pace, whether at home, in the field, or on the go. The learning management system (LMS) platform allows team members to track their continuing medical education (CME) credits, as well as access ongoing CME classes and webinars.
Healogics has also created monthly online educational sessions to review the latest evidence-based articles, as well as to discuss challenging cases, all accessible through iLearn.
On-Going Educational Electives
To further one's educational journey, Healogics has several extracurricular learning opportunities that team members can participate in throughout the year.
Wound CAMP gives wound care providers the chance to face real-life wound care cases to impart relevance and aid in connecting theory to practice. During Wound Case Studies and Mentoring for Providers (CAMP), various providers present challenging cases from their Wound Care Centers with an opportunity for discussion, problem-solving and mentoring. Our Chief Medical Officer, Dr. William Ennis, facilitates an interactive discussion of challenging cases, which includes problem-solving and mentoring.
Journal Club is a valuable tool to assist providers, nurses, and others in the evaluation of wound care literature and to promote adoption of evidence-based practices. Topics will vary with each journal club to review the continuous evidence that is being developed in the field of chronic wound care, vascular interventions, utilization of advanced modalities, patient engagement, prevention of stalled wounds and more.
At Healogics, we follow a People-first, Patient-centered philosophy by focusing on our patients and team members with the ultimate purpose of healing. Although the ways in which we consume new information have drastically changed over time, it is still just as important to keep team members engaged and educated on the newest updates within our industry. Yet, our current approach to wound care education is both modern and flexible, all of which team members, new and seasoned, look for when advancing their skill set.
Partner With Us
Join our Healogics network of over 600 Wound Care Centers nationwide. Together we can optimize outcomes and improve health in the communities we serve.