Achieving New Levels of Excellence at the Bell Center for Learning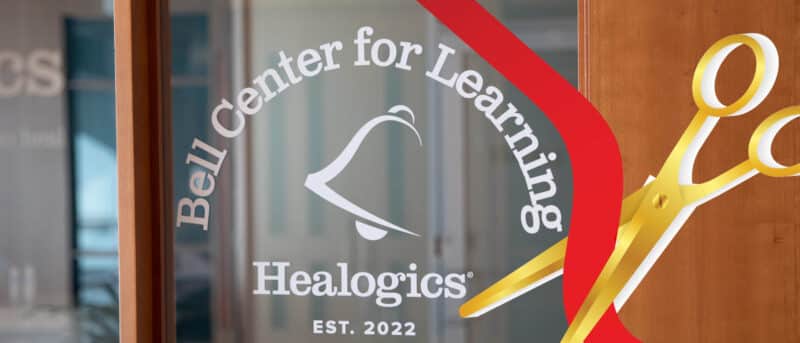 The new Healogics® Bell Center for Learning, located in Jacksonville, FL officially opened in April 2022 and serves as a centralized venue for nursing and clinical courses. With fully interactive wound care models and patient simulation rooms that replicate real-life scenarios, The Bell Center offers an excellent training experience for our team members.
We believe that hands-on and interactive activities are an integral part of the learning experience. As an organization, we provide our team members with the training needed to deliver exceptional patient experiences and ultimately fulfill our mission to advance wound healing by sharing our expertise everywhere we can, for every patient who would benefit, by the best means available.
As part of our efforts to invest in our nurses and enhance the skillset wound care experts need to be successful, Healogics created this brand new facility specifically designed to foster an environment of learning for nurses. Through innovative technology, they gain advanced skills and clinical knowledge that will support exceptional care for our patients and lead to improved patient outcomes.
The Bell Center was named after a long-standing tradition held in high regard for patients and nurses across all Wound Care Centers®. When a patient has healed from a chronic wound, they're proud to "ring the bell" signifying their treatment has ended. They're able to go on to live the quality of life they deserve.
The Bell Center is complete with large spacious meeting rooms as well as four patient simulation rooms. Each room is set up to focus on different patient scenarios and topics that offer a comprehensive learning experience. Visual models designed by our expert clinical education team represent different wound types. Nurses can familiarize themselves with a complete Center experience by assessing chronic wounds they see while treating patients. They are also connected with a team of learners who share and support one another. A hands-on learning experience is an extremely important part of being a wound care specialist. The Bell Center for Learning represents a reimagined experience and is a great depiction of what we're about and what we do at Healogics.
Partner With Us
Join our Healogics network of over 600 Wound Care Centers nationwide. Together we can optimize outcomes and improve health in the communities we serve.