2022 Healing Can't Wait
We're so glad you found us. Whether you are living with a chronic wound or caring for someone who is, we're here to help. This webpage provides information to help you understand why some wounds need specialized care to heal. You'll also find tips for improving your overall wellness. Please search our blog, download free educational handouts or find a Center near you.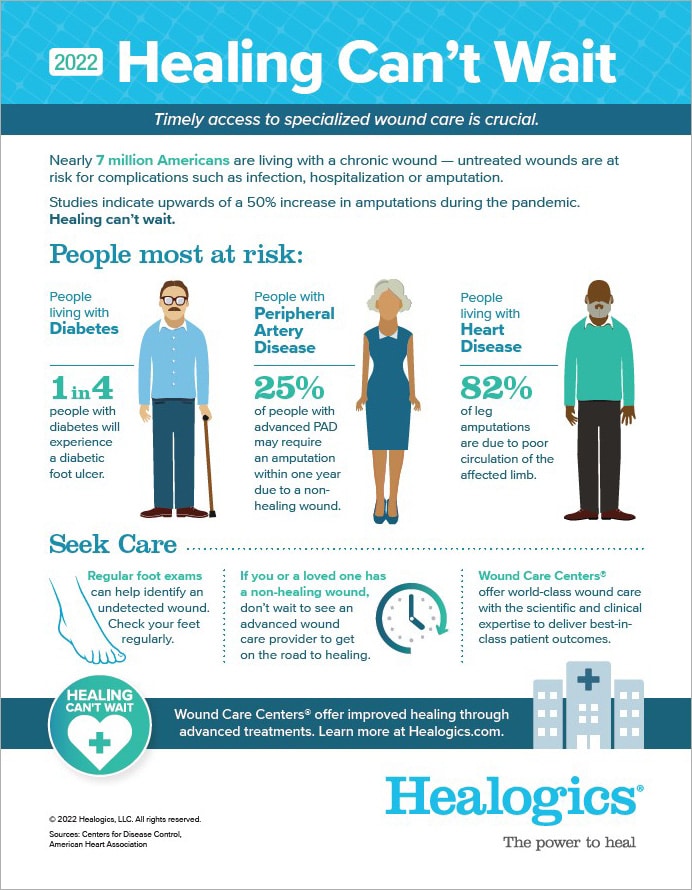 Nearly 7 million Americans are living with a chronic wound — untreated wounds are at risk for complications such as infection, hospitalization or amputation. Studies indicate upwards of a 50% increase in amputations during the pandemic.
People most at risk:
People living with diabetes
People with peripheral artery disease
People living with heart disease
If you or a loved one has a non-healing wound, it's imperative to see an advanced wound care provider so you can get on the road to healing. Our Wound Care Centers® offer world-class wound care with the scientific and clinical expertise to deliver best-in-class patient outcomes.
Because when it comes to addressing a chronic, non-healing wound,Healing Can't Wait.
Request an appointment
Healogics is the expert in wound healing. Over the past 20 years, we have treated over 300,000 patients each year and healed over 4 million wounds. Wound care is what our specialists do all day, every day. We are ready to see you at one of our 600+ Wound Care Centers® across the country.